Considerations for the Property Investor
10-June-2014
10-June-2014 12:42
in General
by Admin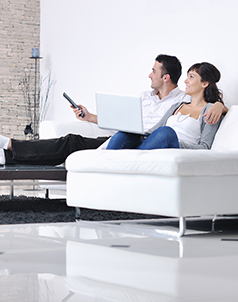 The "4 Ps" of Marketing
Traditional marketing theory considers the 4 Ps, namely Product, Place, Promotion and Price, to be crucial in successful marketing. This is no less relevant in the property rental business and it is vital that we think of it as a business – remember this is not your home. We shall now consider each of these in turn.
Clearly offering the right Product to the market is important, namely the property and what it offers, to the target market or tenant type that the Landlord is trying to attract. It should be of the right size, style and condition to meet their needs. The popularity of "buy to let" investments over the past decade has led to an increase in stock in the private rented sector and therefore, standards have had to rise to attract and retain good tenants.
Generally new/modern properties have better suited layouts for modern living, lower running costs, often have parking and hence rent well. For the "absentee" landlord, they also have lower maintenance requirements, but require investors to pay the developers premium and consequently the yield as a percentage of the purchase price can be lower. Older housing stock can represent good value, though may have awkward layouts not conducive to modern lifestyles, unless alterations have been undertaken. Some Tenants prefer the architecture and period features of older properties, tending to be well built and so can be a good option for investment.
"Location, Location, Location" is a popular saying when it comes to property and is relevant for attracting the right tenant. It is not ideal trying to let a 4 bed family house in an area of trendy bars and night clubs. Similarly, a contemporary one bed apartment will probably not rent well in the suburbs. Think carefully about the location and who will want to live there.
Once the property has been identified and purchased, it needs to be Promoted and Priced correctly to the market. It should be presented in good condition with a neutral decor and appealing kitchen and bathroom, with any glitches being fixed. Not only will this help command a higher rent, but it will help the property rent more readily, reducing costly void periods. For example, £500 pcm rent on a £100,000 property represents a 6% gross yield, but with a one month void per year, this drops to 5.5% and so on.
Investment Objectives
It is important to have clear objectives for your investment strategy. Rental yield can be an overriding aim for those looking for an income stream. However, for others such as higher rate tax payers, this can be secondary to capital growth, or other factors, such as ease of management and low maintenance. In addition, with house prices currently rising, timing the market is crucial in securing property at the best price. These factors should all be considered when deciding upon the type, location and timing of the property investment.